The Caribbean For Couples, And Families
Let a Caribbean Vacation Soothe You!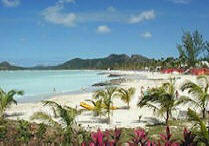 Guardian Travel, together with Funjet Vacations, all-inclusive resorts,
Beaches all-inclusive resorts, GoGo Vacations, offer you value, choice, assurance - and fun! Choose from all-inclusive resorts, non-all-inclusive resorts, luxurious hotels, and value stays for fun-filled Caribbean vacations. Enjoy convenient, local departures and nonstop flights to many destinations. We offer you the choice of charter flights - which mean great value - as well as regularly scheduled service on major commercial air carriers out of any destination. Let us help turn your vacation dreams into memories that last a lifetime! Book your Caribbean vacation online with confidence, or call us at 1-800-439-6804 for fast, friendly assistance.
*Guardian Travel has two agents (Janet and Michelle) on staff that has traveled extensively to the Caribbean. All of Guardian Travel's agents are certified specialists at Sandals and Beaches Resorts. Please contact them to discuss these vacation packages further.*
Our Caribbean Destinations:
Why Consider a Caribbean Vacation?
White sand beaches, swaying palm trees, calypso music and smiling faces - its little wonder the Caribbean is one of the worlds greatest vacation playground. Yet despite these enticing characteristics, it would be a mistake to think this string of islands in the Caribbean Sea are all the same. Scenically they range from the uniquely French, and Dutch St. Martin, to lush tropical playgrounds like St. Lucia.
Their relaxed way-of-life may be influenced by French culture such as St. Barths or they may adhere to English traditions like Antigua. They may boast the sophisticated nightlife, gourmet restaurants and world-class golf courses of somewhere such as Jamaica or they may be like the Grenadines with little more than a few coconut palms, a jetty for visiting yachts and weekly barbeques on the beach.
Its important you choose the one thats perfect for you or at least perfect for you at that particular time. You Guardian Travel professional will be delighted to put you on the right track...
Guardian Travel offers only the best Caribbean vacations and all-inclusive vacations featuring only the finest resorts and hotels throughout the Caribbean. Search our web site for your ideal Caribbean vacation. Book all-inclusive vacations to Jamaica, Bahamas, Aruba and Puerto Rico or call us at 1-800-439-6804 for fast, friendly assistance.
All Inclusive Vacations in Mexico too!
As with Caribbean vacations, there are adventurous, fun-filled times with Mexico vacations. No matter where you travel with us, our all-inclusive vacations in Mexico and the Caribbean are sure to be entertaining! Our resort vacations are truly spectacular vacations for singles, couples and the entire family. Contact us and let us know what type of vacation package deal interests you.
Vacation Package Deal Assistance
Guardian Travel's All-Inclusive travel guide was created to provide fast, easy reservations for Caribbean vacations or all-inclusive vacation package deals available. Soon, this guide includes real-time availability and the best possible rates for budget, mid-scale and deluxe all-inclusive hotels and resorts in Bermuda and the Caribbean.  We specialize in offering flexible vacation options for couples, families, singles and groups seeking exceptional travel values to some of the finest resorts in the world.
At Guardian Travel Our Philosophy Is Simple
We want to create a vacation experience that's like no other. We want you to live your destination, not just visit. Talk to us, and we'll create a customized itinerary just for you! Your imagination plus our experience equals one perfect vacation!